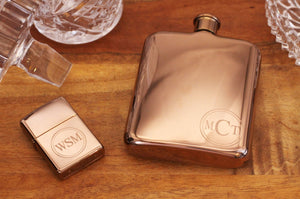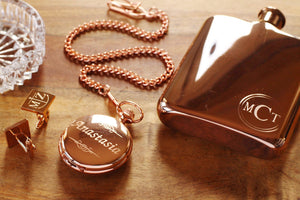 Rose Gold Personalized Flask - Engraved Rose Gold Flask - Personalized Bridesmaid Flask - Bridesmaid Engraved Flask - Bridal Shower Gifts
A beautiful and sleek ROSE gold flask personalized with a custom monogram. The perfect gift for your Maid of Honor or Bridesmaids.
Comes with theEngraver hand printed cotton gift bag.
Constructed of copper plated stainless steel.
Dimensions:
5" x 3.5"
6 ounce capacity
►HOW TO ORDER
• Please select your engraving style & placement from the drop down menu.
• Enter your engraving request in the personalization field.
• Check spelling and dates carefully as we COPY & PASTE from provided text. We do NOT rearrange initials.
►IMPORTANT NOTE ON MONOGRAMS:
• Monograms with a LARGER letter in the middle feature the LAST NAME in the center (first, last, middle).
• Please send your monograms carefully - they will be engraved exactly as received. We do NOT rearrange initials.
• As pictured, please be advised that first initials "B" and "D" in STYLE M2 and M3 will appear to be backwards.
►FOR CUSTOM IMAGE REQUESTS ONLY
• We can create custom engravings from most images supplied by customers as long as there is no risk of copyright infringement. We would require a high resolution, high contrast black and white image. This service is an additional one time $35 fee to create your custom engraving file. This file can also be used on most items in the store. To order your custom belt buckle, please select "CUSTOM IMAGE" and add to your cart. Please note photographs are not engraveable. Clip art or graphic images/logos please. Please send us your image so we can verify the quality of image you provided!
►OTHER INFORMATION
• Get our SILVER CHROME version here:
https://www.etsy.com/listing/577367967/engraved-silver-flask-high-polished?ref=shop_home_active_2
• Get our YELLOW GOLD version here:
https://www.etsy.com/listing/577366695/yellow-gold-personalized-flask-engraved?ref=shop_home_active_3
• We source our vast collection of gifts and novelties from US and International vendors. Please note country of origin such as USA, China, Pakistan, France and Italy may be indicated on some items. All items are engraved in Maui, Hawaii.
• All items are ready to gift in 100% cotton hand stamped gift bags.
• Our turn around time is 3-5 business days.
• For more custom engraved personalized gifts please visit our store: https://www.etsy.com/shop/theEngraver
More about this product:
Bridesmaid flask, flask for her, bride flask, Millennial Pink, bridal shower gifts
All images copyright Nina Kuna ©2022