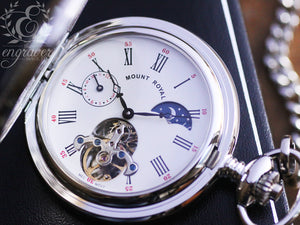 Mount Royal Sun and Moon Half Hunter Pocket Watch
This Mount Royal Skeleton Pocket Watch is presented within a chrome plated case complete with a polished back. The Half Hunter style features a window to easily view time without opening the watch. This sidewinder pocket watch features a 17 jewelled mechanical 24 hour sun and moon movement and classic white Roman dial.
Making the perfect gift this skeleton pocket watch comes complete with a matching Belt Loop chain, presentation box and two year guarantee.
Movement: 17 Jewelled Mechanical – Sun/Moon 24 hour.
Dial: White Roman – Sun/Moon
Case: Chrome Plated – Polished Back
Complimented: With matching Belt Loop chain
Gift Packaging: Presentation box. Two Year Guarantee.
►HOW TO ORDER
• Please select your engraving style from the drop down menu.
• Check spelling and dates carefully as we COPY & PASTE from provided text. We do NOT rearrange initials.
►IMPORTANT NOTE ON MONOGRAMS:
• Monograms with a LARGER letter in the middle feature the LAST NAME in the center (first, last, middle).
• Please send your monograms carefully - they will be engraved exactly as received. We do NOT rearrange initials.
• As pictured, please be advised that first initials "B" and "D" in STYLE M2 and M3 will appear to be backwards.
►OTHER INFORMATION
• We source our vast collection of gifts and novelties from US and International vendors. Please note country of origin such as USA, China, Pakistan, France and Italy may be indicated on some items. All items are engraved in Maui, Hawaii.
• All items are ready to gift in 100% cotton hand stamped gift bags.
• Our turn around time is 3-5 business days.