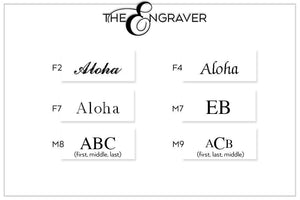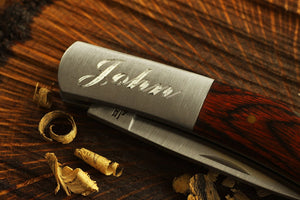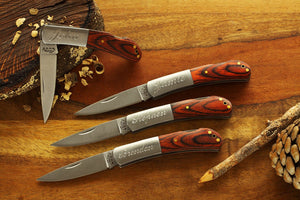 Groomsmen Gift Personalized Knife - Engraved Pocket Knife - Custom Groomsmen Gifts - Gift for Men - Father's Day Gift - Friends Gifts
Beautiful and sleek, this wood and stainless steel pocket knife is engraved with any custom name. The perfect personalized gift idea!
Dimensions:
Closed: 3 1/2"
Open: 6"
►HOW TO ORDER
• Please select your engraving style from the drop down menu.
• Enter your engraving request in the personalization field.
• If you would like the back engraved please select "Front and Back" under the Engraving Options. Back side engravings could be dates or duplicate monograms etc. You can specify all requests in the personalization field.
• Check spelling and dates carefully as we COPY & PASTE from provided text. We do NOT rearrange initials.
►IMPORTANT NOTE ON MONOGRAMS:
• Monograms with a LARGER letter in the middle feature the LAST NAME in the center (first, last, middle).
• Please send your monograms carefully - they will be engraved exactly as received. We do NOT rearrange initials.
►OTHER INFORMATION
• We source our vast collection of gifts and novelties from US and International vendors. Please note country of origin such as USA, China, Pakistan, France and Italy may be indicated on some items. All items are engraved in Maui, Hawaii.
• All items are ready to gift in 100% cotton hand stamped gift bags.
• Our turn around time is 3-5 business days.
• For more custom engraved personalized gifts please visit our store: https://www.etsy.com/shop/theEngraver
• AGE RESTRICTION NOTICE: By purchasing from our store, the buyer affirms that they are 18 or older. TheEngraver and Nina Kuna do not take any responsibility for any illegal purchase by underage individuals.
►THIS ITEM IS ALSO AVAILABLE IN SETS:
Groomsmen knife gift set of 4:
https://www.etsy.com/listing/195848007/set-of-4-groomsmen-personalized-knives
Groomsmen knife gift set of 5:
https://www.etsy.com/listing/196626784/set-of-5-groomsmen-personalized-knives
Groomsmen knife gift set of 6:
https://www.etsy.com/listing/196637645/set-of-6-groomsmen-personalized-knives
Groomsmen knife gift set of 7:
https://www.etsy.com/listing/196637823/set-of-7-groomsmen-personalized-knives
Groomsmen knife gift set of 8:
https://www.etsy.com/listing/196637921/set-of-8-groomsmen-personalized-knives
Groomsmen knife gift set of 9:
https://www.etsy.com/listing/196627320/set-of-9-groomsmen-personalized-knives
Groomsmen knife gift set of 10:
https://www.etsy.com/listing/196638053/set-of-10-groomsmen-personalized-knives
Groomsmen knife gift set of 11:
https://www.etsy.com/listing/200406573/set-of-11-groomsmen-personalized-knives
Groomsmen knife gift set of 12:
https://www.etsy.com/listing/200406779/set-of-12-groomsmen-personalized-knives
More about the product:
small wood handle pocket knife, stainless steel blade, lock back, personalized custom engraved knife, groomsmen gifts, friends gifts, father's day gifts idea, custom company gift, groomsman gift, best man gifts, best man knife, father of the bride, father of the groom, groom gifts, groomsman sets, groomsmen sets, small folding knives
All images copyright Nina Kuna ©2021