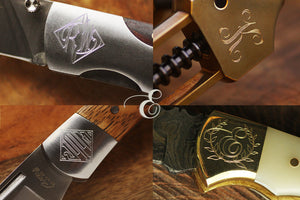 Engraved Brass Belt Buckle - Kraken Belt Buckle - Personalized Satin Gold Belt Buckle - Colossal Octopus Engraving
Intricately engraved with the timeless drawing of the great Kraken and ship. Engraving of the pen and wash drawing from 1801 of Colossal Octopus by malacologist Pierre Dénys de Montfort, from the descriptions of French sailors reportedly attacked by such a creature off the coast of Angola. Made from solid brass. Perfect gift for the waterman or lover of lore.
This is one of the kind item from theEngraver on Etsy and is only reproduced in limited quantity.
Overall size: 2.25" x 3"
Loop width size: 1.5"
►OTHER INFORMATION
• We source our vast collection of gifts and novelties from US and International vendors. Please note country of origin such as USA, China, Pakistan, France and Italy may be indicated on some items. All items are engraved in Maui, Hawaii.
• All items are ready to gift in 100% cotton hand stamped gift bags.
• For custom orders and large gifts sets over 20 pieces, please contact me for special discount/wholesale pricing.
• For more custom engraved personalized gifts please visit our store: https://www.etsy.com/shop/theEngraver
• A NOTE ON INTERNATIONAL ORDERS: As per our Shop Policies, we are not responsible for any custom and import taxes that may apply. We welcome all customers to review our Shop Policies here: https://www.etsy.com/shop/theEngraver
• For larger quantities please contact us for availability and special wholesale pricing.
►TURN AROUND TIME
• Our turn around time is 3-5 business days.
All images copyright Nina Kuna ©2022
More about the product:
Custom engraved belt buckle, personalized belt buckle, Colossal Octopus by Pierre Denys de Montfort , octopus by theEngraver, theengraverhawaii