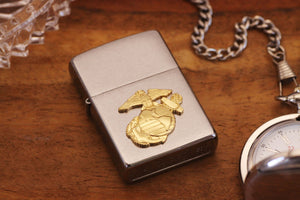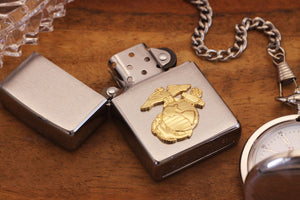 US MARINES Zippo© Lighter
Honor our United States Marines with this Zippo© lighter. This Brushed Chrome lighter has the United States Marines® emblem attached to this lighter. Comes packaged in a gift box. This incredibly detailed lighter will wow as an heirloom piece for years to come. This official Zippo© lighter can be engraved on the back with any custom monogram. Comes ready to gift in a Zippo© gift box with hand stamped gift bag. Ships without fluid in accordance to federal law.
►HOW TO ORDER
• Please select your engraving style from the drop down menu.
• For CUSTOM TEXT requests, please limit your engraving request to 10 words maximum.
• Check spelling and dates carefully before submitting order as we copy and paste from provided text.
►IMPORTANT NOTE ON MONOGRAMS:
• Monograms with a LARGER letter in the middle feature the LAST NAME in the center (first, last, middle).
• Please send your monograms carefully - they will be engraved exactly as received.
• Please be advised that first initials "B" and "D" in STYLE M2 and M3 will appear to be backwards.
►OTHER INFORMATION
• We source our vast collection of gifts and novelties from US and International vendors. Please note country of origin such as USA, China, Pakistan, France and Italy may be indicated on some items. All items are engraved in Maui, Hawaii.
• All items are ready to gift in 100% cotton hand stamped gift bags.
• For custom orders and large gifts sets over 20 pieces, please contact me for special discount/wholesale pricing.
• Your personalized gifts will be engraved with care & love using precision diamond bit engraving techniques.
►TURN AROUND TIME
• Our turn around time is 3-5 business days.
More about this item:
Rodeo Lighter, Western engraved cigarette lighter, fluid lighters, smokers accessories, fire lighter, groomsmen Engraved lighters, groomsman gifts, groomsmen gifts, windproof lighter, camping lighter, gift for him, anniversary gift for him, lighter, zippo lighter, official zippo lighter, engraved zippo lighters, silver chrome lighter, silver zippo, silver mirror finish zippo, Zippo Lighter, Official Zippo Lighter, Cowboy Zippo Lighter, Made in USA lighters, Made in USA Zippos, Custom Engraved Official Zippo Lighters, 280MAR-000075
Engraved MARINES Zippo ©
All images copyright Nina Kuna ©2022